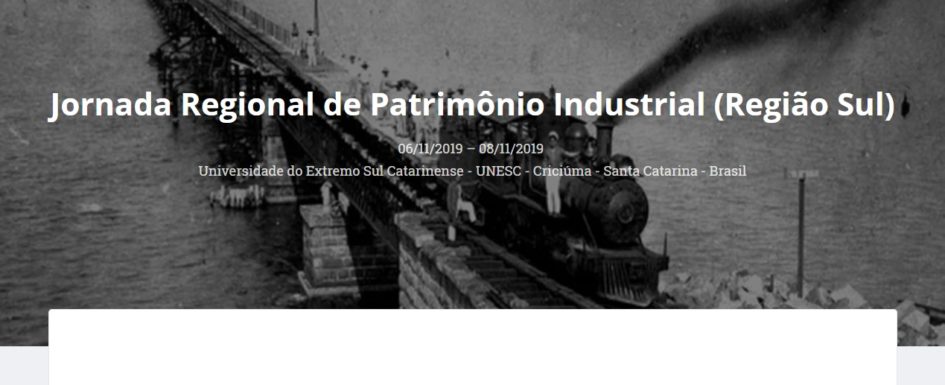 Following the purposes of TICCIH-Brazil to promote and disseminate information and knowledge on industrial heritage, through bi-annual congresses and regional meetings, guided tours, and scientific events (art. XVI), we present below details about the Regional Meetings of Industrial Heritage in the South and Northeast.
The Regional Meeting of Industrial Heritage (SOUTH region) will take place from November 6th to 8th, 2019 at the University of the Far South Catarinense (UNESC), in Criciúma – Santa Catarina. The edition of the Meeting in the South region will be held by the Cultural Heritage Research Group: Stories and Memories and the History Course, both from UNESC in partnership with TICCIH – Brazil. The deadline for submission of papers is open until September 15, to be integrated in several thematic areas. More information about registration, submission of papers, and organization of the Meeting in the South region can be found on the official website of the event.
In the Northeast, the Regional Meeting of Industrial Heritage will be held at the Federal University of Bahia (UFBA) in Salvador. It will take place on October 11, 2019, after the 13th DOCOMOMO Brazil 2019 Congress. The Regional Meeting at UFBA will be held in the form of a joint conference by Aline de Carvalho Luther (UFBA); Alcília Afonso de Albuquerque Melo (UFCG); Ceila Cardoso (UFBA); and Maria Helena Ochi Flexor (UCSal).